Men jailed for Norwich Rose Lane car park murder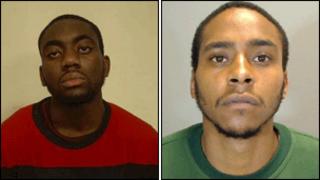 Two members of a London drugs gang have been jailed for life for murdering a man in a Norwich car park.
Honorato Christovao, 54, was beaten to death after he was lured to the car park in Rose Lane in February 2011.
Spencer Yiadom, 22, of Saville Road, Newham, east London, must serve 24 years before being considered for release.
Anton St Paul, also 22 and of Newham, was jailed for a minimum for 23 years at Norwich Crown Court.
The court was told the attack took place in revenge for a rival gang's earlier attack on a member of GBen, a Newham-based drugs gang.
Four members of GBen drove from London to Norwich and ringleader Yiadom struck Mr Christovao with a heavy object in a sock or glove.
He died two days later.
Yiadom admitted murder after his trial began.
St Paul, a drugs money courier of Keogh Road, denied murder and claimed he had witnessed the assault but did not take part.
He was convicted on Thursday.
The same jury acquitted 28-year-old Antony Obariase, 28, of Norwich Road, Newham, who had driven the men from London and denied murder.