Metal thieves target Norwich's Roman Catholic cathedral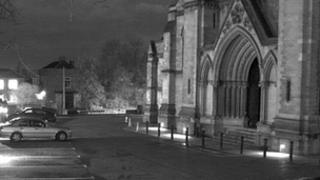 A Norwich cathedral has been forced to spend thousands of pounds on new CCTV equipment after lead valued at £20,000 was stolen from the building.
A spokesman for the city's Roman Catholic cathedral said it had been targeted three times in a year so making it more difficult to insure.
Estates manager Rev Patrick Limacher said it was a "sad state of affairs" more cathedrals were being targeted.
However, he said it would now be easier for future offenders to be identified.
"Thefts from Catholic churches have been a particular problem and in one case a tabernacle was stolen," said Mr Limacher.
"It is now easy for us to keep an eye on who comes through the door and the entire surroundings of the building 24-hours a day. I can also monitor it remotely from home via the internet.
"If we have an incident we are able to go to the police and show them exactly what the incident was, what happened, how it happened and who did it."
In the last year lead downpiping has been stolen as well as lead from the roof of the cathedral's Narthex centre.