'Killer' shrimp threat on the Norfolk Broads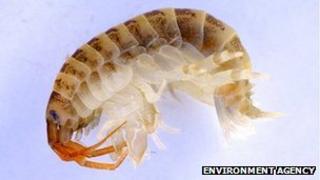 An outbreak of non-native "killer" shrimps on the Norfolk Broads is threatening its ecology and economy, the Broads Authority has said.
Since the shrimps were first found on Barton Broad earlier this month, extra monitoring has now revealed they have settled further along the River Ant.
A Broads Authority spokeswoman said: "We can only assume natural flow will spread shrimp throughout the Broads".
A public awareness campaign to prevent the spread of the shrimp has begun.
The waterways have now become the fourth area in the UK to have the crustaceans, according to the Environment Agency.
Dikerogammarus villosus, commonly known as killer shrimp, are known to kill native shrimp, young fish and insect larvae.
'Large pockets'
Last year the agency said the shrimp was the worst non-native invader of waterways in England and Wales due to its voracious appetite, which alters the make-up of habitats it invades.
The shrimps, which grow to about 30mm long (1.18in), were first found in UK waters in 2010 at Grafham Water in Cambridgeshire.
Andrea Kelly, senior ecologist for the Broads Authority, said the shrimps had now been found in "large pockets" along the River Ant to where it joins with the River Bure.
She said more monitoring would now take place throughout the Broads to keep an eye on the spread, which could be drastically increased during the summer as holidaymakers take to the area.
"Locally they're being found in high numbers," said Ms Kelly.
"It's too early to say what effect it is having on the ecology of the Broads, but they have a very high breeding rate and they could have an impact on the environment.
"They could affect fishing on the Broads, which is an industry worth millions of pounds.
"However, 80% of the Broads is soft silt, so they might not have the ecological impact of other rivers. Gravel is a much better habitat for them."
TheCheck, Clean, Drycampaign, set up by the GB Non-native Species Secretariat, asks people to check their equipment and clothes after they leave the water, to wash them off by the waterside and then thoroughly dry them out.
Ms Kelly said the shrimps could live for up to 14 days in damp conditions.
The Broads Authority said it was planning to put up information signs throughout the river network in the next few weeks.