Killer whale sighting off Norfolk not confirmed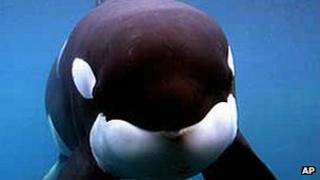 Experts looking into a possible sighting of a killer whale off the north Norfolk coast believe it could have been a different type of dolphin.
In February, the county's mammal recorder, Dr David Leech, said he received a "highly reliable" sighting from birdwatchers at Sheringham.
However, after in-depth analysis of the witnesses' records, he said the reports could not be fully verified.
It is thought the sighting was most likely to be a white-beaked dolphin.
Dr Leech said the two birdwatchers' statements were sent to the Norfolk Biological Information Service (NBIS) at County Hall, in Norwich, and other wildlife organisations.
If confirmed, it would have been the first sighting of a killer whale in Norfolk.
However, the reports were inconclusive as the shape of the dorsal fin could not be fully confirmed.
The birdwatchers could not say whether there were specific flank markings or a white patch behind the eye of the mammal.
'Not an impossibility'
"Unfortunately, we just didn't have quite enough information to distinguish it from the possibility of a white-beaked dolphin, which is one of the more common cetaceans in the waters around Norfolk, although that in itself is fairly infrequently seen," said Dr Leech.
"We have not heard from anyone else. This is quite a high-profile sighting, so I think if someone else had thought they might have seen a killer whale in the Norfolk waters then they probably would have contacted us by now.
"It's certainly not an impossibility that a killer whale would turn up in Norfolk, but as yet that's not been recorded."
Dr Leech said white-beaked dolphins had been spotted on about 25 occasions in Norfolk, most recently in 2010.
Martin Horlock, from NBIS, said: "It's always good and interesting to have first species for Norfolk, so it's disappointing, but we do get new things sent to us all the time."
February's sighting was deemed reliable as one of the men who made the spot - Giles Dunmore - was himself a wildlife expert and had successfully spotted killer whales off the coast of Tenerife and Alaska.