King's Lynn incinerator: Draft operating permit issued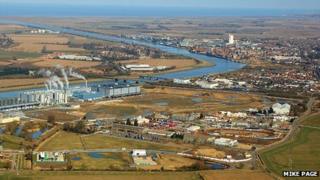 A draft permit setting out how an incinerator in Norfolk could be operated if it is built has been issued for consultation.
The Environment Agency has issued the document for a £500m waste incinerator at Saddlebow in King's Lynn.
The permit outlines the conditions and emission limits that must be met.
Members of the public are now invited to comment on the draft document, which was published on the Environment Agency website on Tuesday.
Agency spokesman Neil Goudie said the public consultation was normal practice.
He said: "For sites of high public interest, we want to listen to their views on our decision.
"This is to ensure we have picked up on everybody's views and if we have missed something, or interpreted something that's been provided during our assessment, we can review it at this stage before finalising our decision.
"This consultation is on our decision on whether we should issue a permit or not."
He said the permit could be "slightly modified" following the consultation.
He added: "If the views we receive don't substantially alter our decision then the permit that we're issuing today as draft is likely to be issued."
Mike Knights, from campaign group King's Lynn Without Incineration, said: "We intend to go to their consultation and see how they intend to justify the decision they've made."
People are invited to discuss the draft decision with the Environment Agency at South Lynn Community Centre in King's Lynn on 23 April between 15:30 and 20:30 BST.