CCTV released of Lord Nelson artefact theft suspects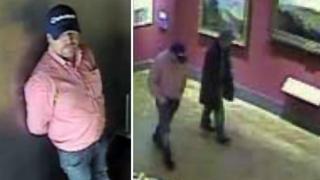 CCTV images of two men wanted in connection with the theft of Lord Nelson artefacts from Norwich Castle have been released by Norfolk Police.
Police said they want to question the men about the raid, which took place on the afternoon of 25 February.
Items valued at more than £36,000, including a ring, saucer and medals, were taken from a display cabinet.
Police said medals marking Nelson's death and the Battle of the Nile were among the items reported missing.
A full review of security arrangements is under way at the museum.