Accused 'knew nothing of £12m fraud of Norwich millionaire'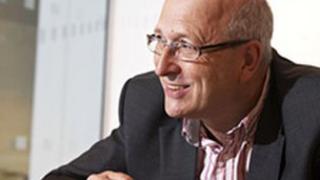 A man accused of being part of a gang that defrauded a Christian businessman was unaware of attempts to con him, a court heard.
Kevin Brennan, 55, of East Yorkshire, is one of five men who deny defrauding Graham Dacre, of Norwich.
Mr Dacre lost £11.9m in an investment scheme, Norwich Crown Court heard.
Mr Brennan, of Kirkburn, Driffield, admitted making £350,000 profit but told the court he had no idea of any wrongdoing within the scheme.
Ex-marine Mr Brennan denies fraud along with David Roberts, 62, of Montpelier Road, Brighton; Ian Yorkshire, 61, of Clarendon Villas, Brighton; Alan Hunt, 65, of The Avenue, Poole and Arthur "Trevor" Ford-Batey, 61, of Miles McInnes Court, Carlisle.
Trusted 'implicitly'
The court has heard Mr Dacre was targeted with promises of "huge returns" from high-yield investments that he intended to use for charity.
The prosecution said however, the money disappeared through a network of offshore bank accounts.
Mr Brennan confirmed to the court he was involved in the scheme, but it was only when he received an email raising concerns that another investor, a church in Germany, had lost its money that he "called and questioned it".
He said: "They absolutely reassured me it was all okay."
Referring to co-defendant Mr Ford-Batey, Mr Brennan told the court: "I trusted Trevor implicitly and, if he was happy, I knew everything was okay."
When Mr Dacre himself became suspicious he was warned the group had "a file on him" that could be made public, the jury heard.
Laundering charge
However, the court was told he dismissed the threats and, despite contacting Norfolk Police in late 2008, no file was ever produced against him.
Giving evidence, Mr Brennan denied he had been involved in a "detailed investigation" to draw up the file.
The five men, along with Mr Brennan's brother, Martin, 40, of Bracken Road, Stockton-on-Tees, are also charged with laundering the money given to them by Mr Dacre.
Mr Hunt, Mr Ford-Batey and Mr Roberts also deny conspiracy to defraud Utah commodities dealer Randall Schreiber, who parted with $900,000 (£570,000), and laundering the money.
The court has heard another investor, the New Apostolic Church in Dortmund, Germany, lost 15m euros (£12.6m) in the scheme.
The case continues.