Ron Howard directs Formula 1 film Rush at Snetterton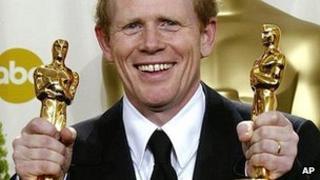 Oscar-winning director Ron Howard is shooting his latest film in Norfolk about a famous Formula 1 rivalry.
Filming for Rush began earlier at Snetterton racing circuit and continues throughout Tuesday and Wednesday.
The film centres around the rivalry between racing legends James Hunt and Niki Lauda in the 1970s.
The director of Apollo 13 and The Da Vinci Code said Snetterton replicated the features of many of F1's most historic tracks.
"The acting scenes are entirely complete now and now we're dedicating the last portion of the production to recreating these very intense races," he said.
"What we're doing is using different corners and sections to replicate tracks that we either can't get to, or have changed so much that we need to do things to make them historically accurate.
"We were able to find a lot of that at Snetterton and that's why we're here for a couple of days of shooting, including a day of full work with the actual historic Formula 1 cars."
Members of the public have been invited to watch the filming session.
A £3.5m revamp of Snetterton's circuit was completed last year, making it the second longest track in the country.