Young women facing 'serious harm' to liver from alcohol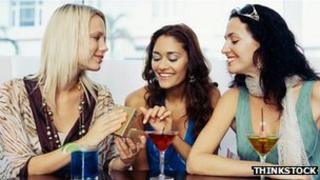 More women in their 20s are suffering from severe liver damage as the result of excessive alcohol consumption, a senior doctor in Norfolk has warned.
Norfolk and Norwich University Hospital consultant Martin Phillips said the number of younger women patients with cirrhosis has steadily increased.
He said: "The age women see us with complications of cirrhosis has come down by a decade in the last 15 years."
Alcohol related hospital admissions in England topped one million in 2011.
The youngest person Dr Phillips has treated was 19.
He said: "The population is drinking more alcohol than it ever used to. People don't realise they are doing themselves serious harm in their late teenage years or early 20s.
Binge drinking
"Go back just 30 years and perhaps it was socially unacceptable to see young women drunk and disorderly. Boys have always done that, but girls now do it too.
"There's a biological difference between men and women in the breaking up of alcohol.
"There's a protein in the stomach wall which breaks down alcohol which is much less active in women than it is in men, so women are much more susceptible to damage to the body from alcohol misuse.
"Basically if you wait until you feel unwell and then come into hospital, it might be the last time you come in."
In line with Dr Phillips view, the Norwich-based addiction charity NORCAS has also seen a rise in the number of young women with alcohol dependency over the last five to 10 years.
The charity uses a score to measure a person's drinking problem, with 40 the highest score possible.
The average score has risen from 10 to 30 for young females and 19 to 28 for young males over the last five years.
The number of days drinking above the binge limit (six units) per month rises from 8.5 to 20 for females over the last three years.
Andrew Cleveland, operations manager for NORCAS, said: "For many young women and men, going out and getting drunk is an accepted lifestyle choice... and the impact their drinking may be having on their health is very far from their minds."
Philip Cutter, landlord of the Gardener's Arms in Norwich said he had seen women's attitudes to drinking change over the years.
He said: "Historically women used to have single spirits and half-a-glass of beer, but these days they keep up with the fellas."