River Wensum bank restoration completed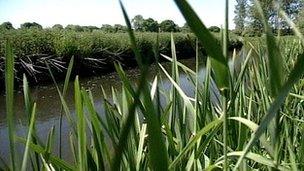 A major restoration project to improve the ecology of the River Wensum in Norfolk has been completed.
The Environment Agency (EA) and Natural England (NE) has reinstated more than a kilometre of meanders at Great Ryburgh after the river was straightened.
EA said wildlife along the stretch suffered after the work in the 1800s, which was likely carried out to improve access to the village mill.
Rob Dryden from EA said wildlife could start returning as early as the summer.
Jen Small from NE said: "To date this is the longest continual stretch of the Wensum to be restored and will benefit all the wildlife associated with the river, including plants, aquatic invertebrates, fish, birds and mammals.
"It will also enhance the character of the landscape in this part of Norfolk."
The Wensum is designated a Site of Special Scientific Interest and a Special Area of Conservation in recognition of it being one of the best examples of a lowland chalk river in the UK.
Related Internet Links
The BBC is not responsible for the content of external sites.