Cromer Town Football Club ground could have GP surgery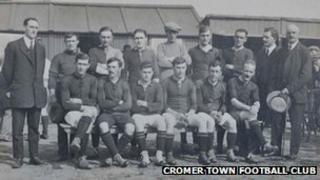 Plans have been submitted to build a GP surgery on a Norfolk football ground whose ownership is tied to a bizarre clause about royal deaths.
Cabbell Park was given to Cromer Town FC in 1922, but its lease has not been renewed, in a move linked to the death of King Edward VII's final descendant.
The club said it would not object to the surgery, despite a possibility that it could play there until 2032.
Part of the plan would include relocating the club, the council said.
The rights to the ground relate to identifying the final descendant of King Edward VII .
The Crabs were bequeathed their ground by rich local landowner Evelyn Bond-Cabbell.
It was thought the lease ended in January 2012. The land agreement said it should expire 21 years after the death of King Edward VII's final descendant - thought to be Norway's King Olav V, who died in 1991.
'Happy to move'
It added after that it should be given to the local authority.
However, Paul Jarvis, Cromer Town chairman, said genealogy checks indicated George Lascelles, the 7th Earl of Harewood, was the true final descendant of the king.
He only died in July last year, which could mean the club has the right to remain on the ground until 2032.
Mr Jarvis said despite not knowing the true ownership of the ground, the amateur club would be "quite happy" to move, as long as the proposed new facilities were delivered and maintained at the same level.
He said part of the current ground would be taken up by the medical centre, meaning the club would have to extend on to its training pitch.
The club has spent about £3,000 on legal advice.
'Win-win situation'
John Lee, deputy leader of North Norfolk District Council, said the authority had been in contact with the football club and neither party wanted the issue to go to court.
He said the plan was a "win-win situation" and any money gained from the sale of land would be used to relocate the club on to another part of Cabbell Park.
If all goes through, the pitch would be moved by the start of the next football season, he added.
To compensate for the loss of "public open space" - another clause in the land agreement - a new area would also need to be created for people to use.
This would likely become the home of Cromer's youth team, which Mr Lee said surgery operator Medcentres would pay for.
Cromer Town are looking to retain the Sterry Cup with a win against Loddon United on Friday.