Tenerife beheading: Mills-Westley search for answers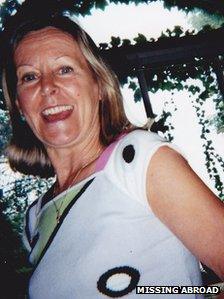 For the family of Jennifer Mills-Westley, the brutality of her death has been one of the hardest things to come to terms with.
The 60-year-old retired council worker, from Norwich, was stabbed and beheaded in a shop on the Spanish island of Tenerife on 13 May 2011.
Witnesses said a man entered a Chinese supermarket and carried out the vicious attack, before dropping the head outside.
Sunday marked the first anniversary of the death and relatives say they are no nearer to finding answers about the circumstances leading up to it.
Deyan Valentinov Deyanov, a 28-year-old Bulgarian man with a history of mental health problems, has been arrested on suspicion of murder.
He remains in custody but no date has been fixed for a court appearance.
Ms Mills-Westley's daughter, Sarah, 42, said: "I'm absolutely devastated by the loss of mum, she was my best friend and life will never be the same.
"It's impossible to comprehend how viciously mum was killed. We have so many questions that are, as yet, unanswered."
Mother-of-five Samantha Mills-Westley, 38, who lives in the south of France, said Ms Mills-Westley split her time between France, Norfolk and Tenerife.
"She was around to help me raise my five children," said Samantha.
"I found it impossible to tell my children how their 'grand-mere' died.
"This task was taken from my hands when my 13-year-old daughter was exposed to the awful truth via the explicit detail circulating the internet - distressing my family further, raising questions around mum's death that I am still unable to answer.
"Mum's apartment in France is attached to my house and she spent many weeks around her beloved grandchildren, supporting them and playing such an important part in their lives.
"We all deeply miss hearing her laugh and sing and we feel hollow with all of the gaps in our understanding."
A Foreign and Commonwealth Office spokesman said it was continuing to offer consular assistance to the family.
Missing Abroad, an organisation that offers support to families, has been helping relatives of Ms Mills-Westley.
A spokesman said the family was awaiting news of a potential trial in relation to the killing but had yet to receive details of any forthcoming court appearances.
The grandmother had been living in Tenerife after retiring from her job with Norfolk County Council.
Mr Deyanov is now being held at a psychiatric unit in Tenerife.
Francisco Beltran Aroca, who is representing Mr Deyanov, confirmed no court date had been set for the case.
An inquest into Ms Mills-Westley's death was opened and adjourned in Norwich in June.
Related Internet Links
The BBC is not responsible for the content of external sites.