Norfolk opiate addiction cases fall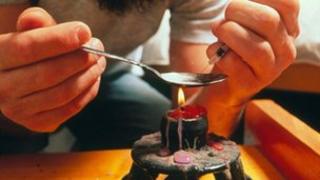 The number of people in Norfolk addicted to heroin and painkillers is at its lowest level since 2006, figures have shown.
Currently 1,650 opiate and prescription painkiller addicts are seeking treatment - down from 2,153 in 2009/10.
Treatment cost using Buprenorph, Naloxone and Methadone has fallen by about £250,000 over the same period.
Norfolk and Suffolk NHS Trust said the county still had a problem beating the high level of heroin abuse.
The statistics were obtained by the BBC from the trust and the Norfolk Drug and Alcohol Action Team, run by Norfolk County Council.
They showed the number of addicts rose from 1,692 in 2006/07 to 2,153 in 2009/10, but had since fallen to 1,650.
Total costs of treating abusers, including drug substitute costs and pharmacist supervision, was reduced to £579,042 in 2011/12 from a peak of £852,658 in 2009/10.
Buprenorph, Naloxone and Methadone are used as less-addictive substitutes to wean addicts off harder opiate painkillers.
'Different flavours'
Denise Grimes, part of the Alcohol and Drug Service (TADS), said the statistics were pleasing, but revealed Norfolk still had a high number of heroin users who were under "long-term maintenance".
She also believed other drugs were on the rise.
"Heroin [use] has reduced and hopefully in the long term that's a positive thing, but there are more issues - especially around alcohol and legal highs - that are becoming more of a concern across the county," she said.
"In Norfolk we do have a high percentage of people in long-term maintenance, but we're doing a lot of work towards reducing that - so they may be on high doses, but they're reducing slowly over the course of time.
"Drugs go through different flavours really and at the moment what we're seeing is younger people are coming through with different drug issues, which will probably need a different requirement."
Ms Grimes cited unemployment and limited employment opportunities as causes behind Norfolk's drug problem.
The Office for National Statistics said in 2010/11 there were 204,473 adults in England in contact with structured drug treatment services - 49% of whom were receiving treatment for opium-based addictions.