Rolf Harris painting of Bonnie Tyler fails to sell at auction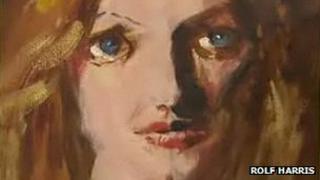 A Rolf Harris painting of Welsh singer Bonnie Tyler, which was valued at £50,000 on the Antiques Roadshow, has failed to sell at auction in Norfolk.
The painting, owned by Cathy Sims from King's Lynn, was given the valuation on the BBC show last year after it was originally bought for £50.
The highest bid of £26,000 at Downham Market Auction Rooms fell £4,000 short of its reserve price.
Ms Sims won the painting as a child at a charity auction in Lincolnshire.
In the 1970s, the 42-year-old office manager said her father let her bid on the painting when she was aged about six.
'Low expectations'
She said the painting was hung on the wall of her playroom as a child, but until recently had resided on the floor in her spare room, which her five-year-old son Billy used to crawl around.
Following the auction, Ms Sims said she was disappointed but revealed she had "low expectations" as the painting was only auctioned locally.
She said she hoped to be approached by interested buyers in the next few days, but added she would re-auction the piece if she failed to sell it.
She said the painting was something she "couldn't afford to keep" as her home insurance company would not cover it.
The painting is currently being held for her at a friend's house.
On the Barry Hawkins Auctioneers website, Rolf Harris said he painted it during rehearsals for the Golden Rose (Rose d'Or) television awards in Montreux.
Mr Hawkins said the painting had received a number of inquiries prior to the sale and added Mr Harris' popularity had skyrocketed after he painted the Queen in 2005.
Ms Sims said if the painting was ever sold for its estimated price she would use the money to pay off her mortgage and take her son to Disneyland.