BBC Music Video Festival unveiled via the internet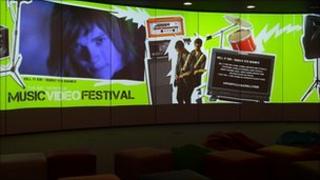 The BBC Music Video Festival is being unveiled this weekend with a live internet-streamed gig from Norwich.
Norfolk band Magoo, who have played seven John Peel sessions, will perform alongside new talent Twin Brother and Kill It Kid at Epic Studios, Norwich.
Saturday's launch in front of a space-themed set marks the first event of this year's national festival, which begins fully in September.
Tickets are available. The 20:00 BST gig will be streamed live on Epic TV.
It marks the fourth year of the festival, which initially began in Norwich, but has evolved into a video showcase that reaches 22 different towns and cities across the UK.
This year's main event takes place in Norwich once again, with new videos from globally-established and unsigned acts being displayed on Europe's largest HD screen in Fusion, at The Forum.
Organisers said they had already received videos from bands in China, Sweden, Jamaica, Kazakhstan and the US.
'Biggest artists'
Last year videos from Plan B, Rizzle Kicks and Elbow were displayed during the festival, alongside top local talent, on the BBC's Big Screens throughout the UK.
It has teamed up with the screens again this year to broadcast hundreds of videos, with the festival running from 10 to 29 September.
"The BBC Music Video Festival has gone from strength to strength since it first began as an offshoot to the BBC Introducing in Norfolk radio show," said Gary Standley from BBC Voices, which created the festival.
"The response we've had since from bands across the UK who are desperately looking for their first step into the music industry has been incredible.
"Getting the chance to have your video played alongside some of the biggest artists at the moment is very exciting and gives some brilliant unsigned musicians the chance to prove their worth."
Artists still have the chance to submit their videos to the festival via the BBC Music Video Festival website.