Chelsea Flower Show: Peter Beales Roses claims gold award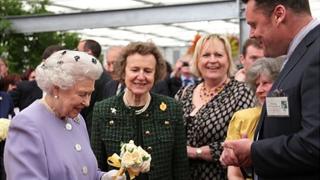 Norfolk firm Peter Beales Roses has claimed its 19th Royal Horticultural Society gold medal at this year's Chelsea Flower Show.
The Attleborough nursery revealed three new roses at the show, including a Queen's Jubilee Rose.
Manager Ian Limmer said: "To get this award is fantastic. It's an amazing feeling to get a gold at the world's leading flower show."
The winning stand features 1,200 blooms and took six people five days to build.
"The Queen's Jubilee Rose has taken us about 10 years to develop. It's a very easy rose for anybody to grow in their garden," said Mr Limmer.
"Each year our stand changes slightly. We've [had] sculptures and big pavilions, but this year we have a gothic folly in the centre.
"We like people to walk through it and feel like they are actually in a garden. But this means the judges can look at it from all sides, which means there are so many places where we could lose points."
This year's show gold is the seventh in a row for the nursery.
Mr Limmer said a medal could give a huge boost to business.
"We never take winning a gold for granted as you never know, but when we get it, it's absolutely terrific."
The nursery will also launch its Red Letter Day and Capel Manor roses at the show which runs until 26 May.
Thorncroft Clematis, from Reymerston, Norwich, has also won a Chelsea gold, making it six in a row for the nursery.