Wells Lifeboat gifted £300,000 legacy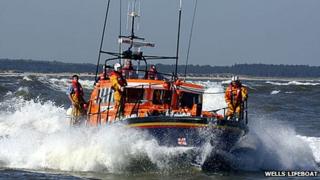 A benefactor has left £300,000 to the Wells-next-the-Sea lifeboat.
The legacy was left in the will of Olive Talbot, but nobody in the crew can connect her with the station based on the north Norfolk coast.
Wells Lifeboat chairman Peter Rainsford said: "The legacy is fantastic. It came out of the blue, I don't think anybody on station knows who this lady is."
The money will contribute to the costs of a new Shannon-class lifeboat for the station after 2013 costing £1.5m.
The Shannon craft will replace the current Mersey-class all-weather lifeboat which has been operating out of Wells for more than 20 years.
Mr Rainsford added: "When we're looking to have considerable expenditure with a new Shannon class lifeboat in a few years time [the donation] will have a huge impact."
Volunteer fundraisers were thanked at the Wells Lifeboat AGM on Monday for having raised more than £27,000 in the last year.