Diamond Jubilee honoured by Norfolk fire service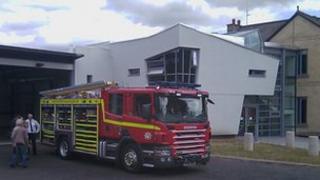 A £4.5m fire station in Norfolk is being named in honour of the Queen's Diamond Jubilee at its official opening later.
The station, off Martineau Lane, Norwich, will be called the Diamond Jubilee Fire and Rescue Station.
Ian Mackie, deputy leader of the Norfolk County Council, said it was a great way to commemorate the Jubilee.
The station, which began operations last summer, will be officially opened at 14:00 BST.
Ian Monson, chairman of Norfolk County Council, said: "It is a great honour and a great pleasure to be asked to to officially open this fire and rescue station.
"I am delighted that the building has been designed to be open to the community and to provide facilities and space for many different groups to be involved with the fire and rescue service. This will, I am sure, be of great benefit of both."
Nigel Williams, chief fire officer for Norfolk, added: "We are proud to name one of our fire stations in honour of Her Majesty's Diamond Jubilee.
"I understand that for many the move from Bethel Street [former Norwich fire station base] was a genuine wrench as many people had an attachment to the building which had served us well for many years.
"The station at Carrow is a very different facility but one of which we are equally proud. This official naming will be the icing on the cake."
Carrow is a two-storey fire station and houses a fire engine (heavy rescue pump), personnel quarters and administration and training facilities.
The station also serves as a base for East of England Ambulance Service NHS Trust (EEAST).