Smoking shelters planned for James Paget Hospital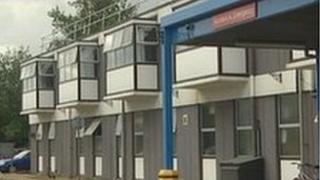 A plan to build three smoking shelters at the James Paget Hospital has sparked controversy on the Gorleston site.
Hospital managers have said building the shelters will stop people from smoking outside the main entrance.
But a patient group says it is wrong and the site should have a complete smoking ban, including outside spaces.
Hospital spokesman Kirk Lower said: "We encourage people not to smoke, but the reality is that people want to and we're trying to manage that situation."
The site in Gorleston officially became a smoke free zone on National No Smoking Day in 2005, but smokers are regularly seen lighting up outside the main entrance.
The government ban on smoking introduced in 2007, where you can be fined for lighting up illegally, only includes enclosed public spaces.
'Addicted to nicotine'
Mr Lower said the hospital was "not conceding defeat, it's recognising the reality of the situation. We have got signs, we have staff come out to ask smokers not to smoke or move off our premises - it doesn't work".
"We have thousands of visitors to the hospital, often in times of stress, and many of them have a need to smoke - they are addicted to nicotine."
But Patrick Thompson, from the patient group Norfolk Link, said rebuilding smoking shelters on hospital grounds sent out the wrong message.
"We'd like the site to be a non-smoking site, but 'the site' is only covered by the building and not the outside areas.
"We don't want to see it happen, but I think to encourage smokers moving away from where they are at the moment and have to walk even further - they might consider given up even more."