Diamond Jubilee: Norfolk lifeboat crews in Thames pageant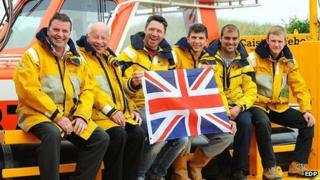 Two lifeboat crews from Norfolk are to take part in the Queen's Diamond Jubilee Thames flotilla on Sunday.
The independent crew at Caister will be piloting their offshore boat in the pageant, with two members of Wells RNLI providing safety cover at the event.
Paul Garrod, chairman of Caister lifeboat, said: "It's a unique opportunity for the crew and we're all looking forward to the experience."
The event will see 1,000 vessels making their way along the River Thames.
The Caister-on-Sea crew were invited to join the event to fly the flag for Norfolk and independent lifeboat services around the UK.
Five crew members will pilot the boat, Bernard Matthews II, on its sea voyage from Caister. It is one of seven craft from Norfolk taking part in the pageant.
Leaving around 08:00 BST on Friday, the crew aim to be at London's West India Dock by 14:00. Additional crew members will jump on board for the procession on Sunday.
Mr Garrod said: "We're very excited to be part of the flotilla. It's such an historic day for the whole country and to be involved in such a big way is a great day for Caister lifeboat.
"Rather than dress the boat with bunting we'll keep it classy and go with flying the Great Yarmouth borough flag, the Norfolk County Council flag and the lifeboat flag."
Safety first
While the Caister offshore crew are in London, any local emergencies will be responded to by RNLI crews from Cromer and Gorleston.
"Obviously we've had to leave a crew here to man our inshore lifeboat, but we have flank stations to cover any emergency that occurs along the stretch of coastline we would normally cover," said Mr Garrod.
Max Phillips and Tom Royall, volunteer crew members at the Wells RNLI lifeboat station, are also involved in the historic pageant - joining the inshore rescue crews patrolling the event on 3 June.
Mr Phillips said: "It's a real honour to be involved in the RNLI presence on the day of the pageant, and I'm delighted I will have such a front seat view of the action."
The formal river procession will be on Sunday from 14:00 to 18:00, starting upriver of Battersea Bridge and finishing down river of Tower Bridge.
Organisers say the pageant is set to be the largest flotilla on the river in modern times with the floating procession estimated to stretch for 12.5 miles (20km).