Three men jailed for fraud of Norfolk businessman Graham Dacre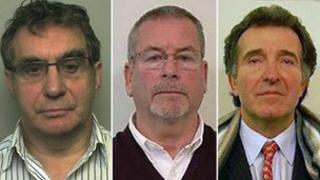 Three men involved in an elaborate confidence trick in which a Christian philanthropist from Norfolk lost £12m have been jailed.
They convinced businessman Graham Dacre he would get profits from a high-yield investment fund, Norwich Crown Court heard during the three-month trial.
Alan Hunt, 65, of Poole, Dorset, was given nine years and Arthur Ford-Batey, 62, of Carlisle, six years.
Ian Yorkshire, 62, of Clarendon Villas, Brighton, was sentenced to 11 years.
A German church also lost 7m euro (£5.6m) in a linked fraud. None of the money has been recovered.
Mr Dacre was persuaded to handover £11.9m, hoping to use the profits to fund charitable schemes.
Air of respectability
But once he had transferred the funds to an offshore account, the money disappeared, prosecutor Mark Fenhalls told the trial.
The men constructed an air of "respectability and Christian charity" to win their victims over, he said.
Hunt, of The Avenue, was found guilty of conspiracy to defraud Mr Dacre and the New Apostolic Church in Dortmund.
He was cleared of one charge of money laundering.
John Dodd, mitigating on his behalf, said Hunt was the "public face" of the scheme but not a "criminal mastermind".
Ford-Batey, 62, of Miles McInnes Court, was found guilty of conspiracy to defraud Mr Dacre. He was cleared of defrauding the Dortmund church and laundering money.
His barrister, Adrian Keeling, said he was only aware of the fraud at a late stage and played no part in "constructing" it.
Yorkshire, 62, of Clarendon Villas, was found guilty of conspiracy to launder criminal property relating to the two frauds. He was cleared of one count of fraud.
Harry Bentley, mitigating, said Yorkshire had terminal cancer and "was simply allowing the money to flow through his account."
'Relieved and grateful'
David "Fraser" Robert, 62, of Montpelier Road, Brighton, and Kevin Brennan, 55, of Kirkburn, Driffield, East Yorkshire, were cleared of fraud and money-laundering charges.
Brennan's brother, Martin, 40, of Bracken Road, Stockton-on-Tees, was found not guilty of laundering Mr Dacre's money.
The men told the court they believed they were involved in a legitimate enterprise and were not aware of any wrongdoing by the scheme's financial controller who was not involved in this trial.
Outside court, Mr Dacre said: "My wife and I are relieved this long-running case is now finally over. We are grateful to Norfolk Police, the Crown Prosecution Service and all those who have supported us over many months.
"Of course, I would like to get some of the money back but only time will tell."
Frank Schuldt, from the Dortmund church, said members of the congregation donated money for projects to help elderly people and for foreign aid.
He said: "They have been very upset by this."