Kite surfer injured in Hunstanton beach fall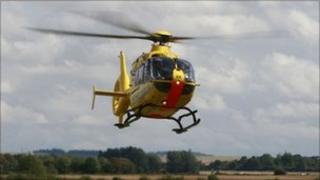 A 52-year-old man, believed to be a kite surfer, has been taken hospital after being found lying face down in the water near Hunstanton in Norfolk.
The holidaymaker was discovered at about 14:30 BST by the town's lifeboat crew on their way back from a rescue.
He had suffered two broken wrists and is thought to have been pulled into the air by a kite which then crashed to the ground.
He is in a serious condition in the Queen Elizabeth Hospital, King's Lynn.
The lifeboat crew had been called out when another kite surfer got into difficulties.
'Condition serious'
He made it to shore on his own and the lifeboat recovered the kite.
As they made their way back the crew found a man lying face down in the water near the shore line.
After calling for urgent medical assistance they carried out CPR until the arrival of the paramedics.
An East Anglian Air Ambulance spokesman said one of its helicopters was called to Hunstanton at 14:30 BST "where a kite boarder had suffered neck, back and arm injuries".
"He was immobilised on a stretcher and his neck, back and both arms were protected.
"The patient was taken by land, escorted by the helicopter crew, to King's Lynn hospital.
"His condition is described as serious."