Norwich Cathedral peregrine falcon chick dies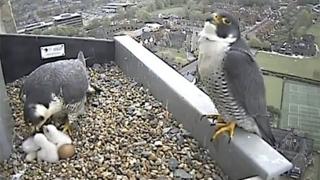 One of three peregrine falcon chicks that hatched on Norwich Cathedral has died, the Hawk and Owl Trust has said.
Three chicks hatched out of four eggs laid on the spire in May. They are thought to be the first peregrine falcons born in the city in 200 years.
One egg failed to hatch and the third chick, which died early on Sunday, "never appeared to be well", Nigel Middleton from the wildlife trust said.
He said the dead chick would be cleared after the two remaining chicks fledged.
"If we were to disturb the nest now they would do a premature flight, and we could lose those as well, so unfortunately we've got to sit back and just wait," said Mr Middleton.
"This is one of the things that happens in nature - we're very lucky to get two peregrine chicks, so we'll just have to watch this space."
The specialist platform was set up by the Hawk and Owl Trust on the cathedral's spire last year, which acts as a cliff-face for the peregrines.
An egg that was laid on it last year by a different female produced an underdeveloped dead chick.