King's Lynn incinerator: Alternative technology considered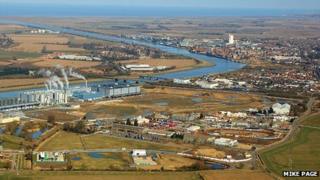 Plans to use new black bin waste disposal technology that could offer an alternative to an incinerator in west Norfolk are to go before officials.
The plan offers an option on the Saddlebow waste incinerator proposed by Norfolk County Council (NCC).
West Norfolk Borough Council leader Nick Daubney said it was important to "embrace new opportunities" in waste management.
NCC said the plans were an attempt to "disrupt" the Saddlebow scheme.
The borough council has been in talks with Material Works, a consortium that can process waste materials which currently goes to landfill.
The waste is processed into granules of an inert plastic-like substance which can be turned into products including fence panels, pallets and tiles.
Mr Daubney said: "Technology regarding waste is moving at a very fast pace.
"That's why it's important we don't make high cost, long-term commitments with out-dated technology and embrace new opportunities.
"As a local authority I believe we are the first people to have a go at this."
Create 300 jobs
Bill Borrett, cabinet member for environment and waste, who is steering the county council incinerator project, said: "I think the borough council is being premature in saying they've found a solution for black bag waste in west Norfolk."
"Our view is that the nature and timing of today's announcement is principally a rather cynical last minute attempt to disrupt the Saddlebow planning process.
"As the waste disposal authority for Norfolk we have repeatedly asked the borough council for details of their proposals, but have heard nothing until contacted by journalists today."
Material Works have said their recycling process would cost taxpayers almost half that of disposing waste to landfill and had the potential to create 300 jobs.
"The cost per tonne of landfill currently stands at £92, whereas our process is just £55, which will bring savings of over £1.3m per year to council tax payers in the borough," said a spokesman.
Since its inception, campaigners have aired concerns over health and whether the proposed £500m plant at Saddlebow would offer the best solution to the county's waste problems.
The county council's planning sub-committee is due to consider the planning application in the summer.
A decision to approve contract negotiations with Material Work will be taken by West Norfolk Borough Councillors on Tuesday.