Royal Norfolk Show: Specific travel routes created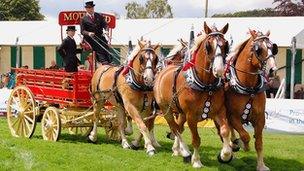 People driving to this week's Royal Norfolk Show are being encouraged to stick to specific routes to avoid a repeat of last year's travel problems.
Organisers apologised following last June's event at the Norfolk Showground after the high visitor count resulted in large queues outside car parks.
This year drivers are being asked to keep to the particular routes, which will be signposted on all main roads.
A number of roads will be made one-way at peak times to improve flow.
The large queues getting into the showground's car parks last year prompted some people to give up and head home.
A crash also closed part of the A47 around Norwich on the opening morning, adding to the disruption.
As part of this year's new travel plans, temporary traffic lights are being installed on the A47 slip road of the Longwater Roundabout to improve the flow of the dual carriageway.
Show manager Sarah de Chair said 100,000 people were expected to attend this week's show - on Wednesday and Thursday - and she was aware of the "pressure" the agricultural show put on major and minor routes around Norwich.
"We have designed this new plan to be easy to follow and we hope that it will make getting into and out of the showground easier for everyone," she said.
"We're encouraging drivers to follow signs and use the new routes as they have been designed to make use of all of the showground entrances."
Traffic approaching the showground will be signposted onto five routes - red, brown, purple, blue and yellow.
These affect the A47 in both directions, the A1074 Dereham Road and the B1108 both west and eastbound.
People are also being encouraged to use buses, which run to the showground from many parts of Norfolk.
Official figures showed 99,000 people attended last year's two-day agricultural show, which is the largest in England.
Related Internet Links
The BBC is not responsible for the content of external sites.