Rare fungi with medical benefits found in Norfolk forest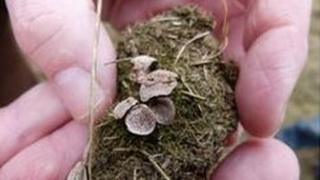 Rare fungi with potential medical benefits have been rediscovered on pony dung on heathland in a Norfolk forest.
The nail fungus, called Poronia punctata, had not been recorded in the county since 1944.
Medical researchers are interested in its natural antibiotics used to compete with other fungi and bacteria.
Previously, it was only known to exist in the New Forest and researchers are baffled by the discovery made during a routine inspection in Thetford Forest.
Forestry Commission ecologists say they are "delighted" because its presence also shows heathland restoration and grazing by ponies can create the perfect conditions for the rare fungus.
Jonathan Spencer, head of environment and planning, said he was "very excited" by the discovery.
"It has started to appear in a tiny number of other places where ponies have been used to restore heathland.
"The fungus is drawing serious attention from the world of medicinal research.
"The peculiar way it competes with other bacteria and fungi in the dung, using antibiotics, is new to science and only just beginning to be explored.
"Its use and value could be huge. Fungi have so much to offer in this way as they are key parts of our biodiversity that could hold huge potential for services yet to be realised."
The fungus, named after its distinctive appearance, similar to a flat-headed nail, grows only on dry dung from ponies that have fed on healthy grassland that has not been agriculturally improved.
The ponies must also be organically fed and treated only by benign veterinary products.
The site, near Hockwold in Norfolk, has been restored to heathland as part of a major plan to link up and expand existing Breckland heaths.