New snow leopard cub born at Banham Zoo in Norfolk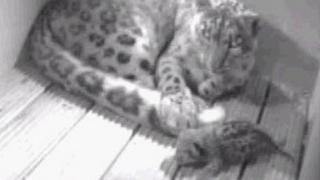 Another rare snow leopard cub has been born at a Norfolk zoo, two years after its parents produced triplets.
Banham Zoo said two new cubs had been produced by endangered pair Rocky and Enif, but one did not survive.
The zoo said the remaining cub was "robust" and was being constantly monitored via CCTV in the leopards' cubbing box, based in its enclosure.
It is expected the cub would remain with its parents for at least 18 months before moving to another zoo.
Previous leopard cubs Margaash, Rebecca and Ziva left for other zoos last year as part of the European breeding programme.
Rocky and Enif have been at Banham Zoo since 2008.
Snow leopards, which can be found in the mountains of 12 countries across Central Asia, are an endangered species with between 4,000 and 6,500 left in the wild, Banham Zoo said.
It added there are currently less than 500 in zoos and wildlife parks across the world.