Guilty plea over rhino horn theft bid at Norwich Castle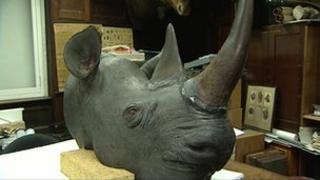 A man has pleaded guilty to the attempted theft of a rhino horn at Norwich Castle.
Nihad Mahmod, 19, of no fixed address, made the plea at Norwich Magistrates Court and is awaiting sentencing at Norwich Crown Court.
He also pleaded guilty to breaching a conditional discharge, imposed by Central Kent Magistrates Court in December in relation to another theft.
Four men tried to steal the horn in February, but were thwarted by staff.
The men, who entered during opening hours at the museum, forced open a display case containing a rhino head and tried to make off with the horn.
However, they were disturbed by museum employees who managed to recover it from them.
The three other men have not been found.
The museum said it would replace the rhino head with a replica.
On the black market, rhino horns can sell for about £50,000 per-kg, making them as valuable or more valuable than gold or cocaine.