Norwich Prison: Health concerns voiced by watchdog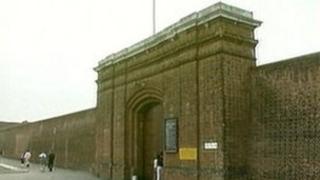 An independent watchdog has voiced concerns about "clinically unsound" health practices at Norwich Prison.
The Independent Monitoring Board revealed some prisoners were going without "vital" medication longer than was "acceptable".
The board acknowledged deficiencies were being addressed and praised the prison's efforts to prepare prisoners for their release.
HM Prison Service said it was aware of concerns and was making improvements.
Agency staff
Health services were criticised last year by the board shortly after the healthcare contract for the Category B and C prison, in Knox Road, was won by Serco.
The board, which monitors the 767-prisoner capacity institution, said despite staff effort there had been "no improvement in areas like the dispensing of medicines and nursing hours".
Board spokeswoman Trish Phillips said: "We are worried that some practices are clinically unsound, for example prisoners can be without vital medication for longer than is acceptable.
"Health managers tell us that the often insurmountable obstacles to their work stem from outside the prison service and also from the frequent need to employ agency staff.
"This has resulted in the loss of several key healthcare staff; however there are signs that things may improve. We certainly hope so."
The board said management of those serving life sentences, Category B prisoners and vulnerable prisoners needed attention as did the issue of making sure all staff dealt "fairly and sensitively with prisoners".
Prison aware
Areas of good work highlighted by the board included preparing prisoners for life after release and its partnerships with outside organisations - such as Norwich in Bloom - and businesses.
Ms Phillips said: "Like all prisons, Norwich is having to do more, for more prisoners, with less money and fewer staff."
A spokesman for HM Prison Service said: "The prison is aware of the healthcare concerns and is supporting the healthcare provider, Serco, in the drive to improve the services to prisoners.
"The Independent Monitoring Board's report into HMP Norwich will be considered by ministers, and we will respond fully in due course."