Wayne Hemingway's Hillington Square plans approved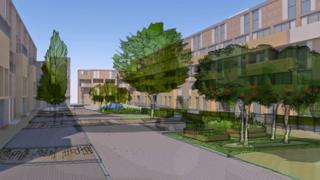 Plans by designer Wayne Hemingway to transform a rundown Norfolk housing estate have been given the go-ahead by council planners.
Hillington Square, in King's Lynn, will have some flats redesigned to be outward-facing and new gardens and a car park built.
A former road, Union Street, will also be reinstated and spaces will be made for firms and community enterprises.
Work on the estate, which has 320 properties, is due to start in 2013.
The former council estate will be redeveloped by Freebridge Community Housing and Hemingway Design, which was set up after the fashion icon sold his Red or Dead label in 1999.
Mr Hemingway said: "I personally can't wait to see the team's designs and regeneration of Hillington Square start to come to life.
"Months and years of creative thinking and consultation have brought us to this point and the next few years will see this part of King's Lynn becoming a more attractive place to live and the lives of the residents and the surrounding community will be enhanced."