County Hall £22m upgrade plan in Norwich unveiled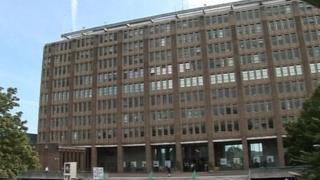 A £22.2m plan to refurbish County Hall, home of Norfolk County Council, has been outlined by the authority.
The renovation, which will take place over 25 years, will see office space refurbished and major exterior work carried out on the aging city building.
The council has also proposed closing all its other Norwich offices and relocating staff to County Hall to save £2m a year.
The plan will be considered by the full council on 23 July.
The council's property consultant recommended the 50-year-old building's offices be made open-plan and its external concrete frame repaired.
It added the entire building's heating and electrics should be upgraded, along with adding insulation to all walls, floors and ceilings and the removal of asbestos.
Improvements to external roadways and paths have also been outlined.
No budget provision
A report to the council said the first £14m worth of repairs would be carried out before April 2015.
The report says there is currently no provision in the capital expenditure budget for next year so the council will have to find £9m in one year.
It hopes this can be funded through the sale of some council buildings.
The report said the construction of an entirely new building was considered, but it was not deemed to represent better value for money in the short or long term.
The report by Mike Britch, managing director of NPS Property Consultants, and Paul Brittain, the council's head of finance, stated: "This report recommends a programme of strategic maintenance to County Hall to deal with major repair requirements; to improve its carbon efficiency; and to provide opportunities to rationalise the use of the Council's office space, particularly in the Norwich area.
"Urgent repairs required to County Hall were identified in June 2011 and whilst essential maintenance has been carried out to the building to ensure the health and safety of members, staff and visitors, more significant maintenance is required if County Hall is to remain operational into the future."
The plan will be considered by the council's cabinet and scrutiny panel on 10 July and the full council on 23 July.