Krays auction: Artwork makes £17,000 at Norfolk sale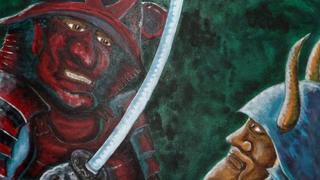 Paintings and drawings produced by the notorious Kray twins have sold for around £17,000 at a Norfolk auction.
The sale of more than 40 pieces, created by brothers Ronnie and Reggie Kray while in prison, went under the hammer earlier at Fakenham Racecourse.
Warriors, painted by Ronnie Kray, thought by experts to portray the gangster twins, reached the highest price at auction of £820.
The artwork was released for sale from two private collections.
Andrew Gibb, art consultant at James and Sons auctioneers, said: "Warriors sold well as it has a bit of history attached to it.
"It has a supporting letter from Reggie saying 'that painting was our inspiration that kept us so strong' and it was known to be a special picture to them both."
He added: "It was interesting to see people's attitudes to the work.
"Some people said they would never have the images in their house, but others were clearly keen to do so - but if we all liked the same thing it would be a very boring world."