Man jailed over Norwich Castle £240k rhino horn theft bid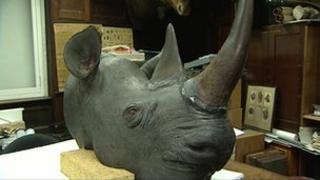 A man has been jailed for two-and-a-half years for attempting to steal a rhino horn from Norwich Castle, valued by police at £240,000.
Nihad Mahmod, 19, an Iraqi immigrant of no fixed address, was sentenced at Norwich Crown Court for his part in a gang's attempt to steal the horn.
The three other gang members who targeted the castle on 20 February have not been caught.
The museum has since replaced the rhino horn with a replica.
Det Insp Andy Ninham, from Norfolk Police, said: "Obviously we're happy to have brought Mahmod to justice for this crime and are still actively seeking the other persons responsible.
"Sadly, this particular crime helps feed the market for rhino horn, which in turn leads to increased poaching of these endangered species.
"Therefore the ramifications are far wider than the matter of theft from a museum."
On the black market, rhino horns can sell for about £50,000 per-kg, making them as valuable or more valuable than gold or cocaine.