Norwich Castle rhino horn theft bid: Second man arrested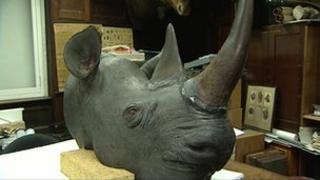 A second man has been arrested in connection with a failed attempt to steal a £240,000 rhino horn from Norwich Castle Museum in February.
The 21-year-old from Newham, east London, was detained over the weekend and released on bail until September.
Nihad Mahmod, 19, of no fixed address, has already been jailed for two-and-a-half years for his part in the attempt to steal the horn.
The museum has since replaced the rhino horn with a replica.
On the black market, rhino horns can sell for about £50,000 per-kg, making them as valuable or more valuable than gold or cocaine.