TV chef Galton Blackiston's barbecue stolen after filming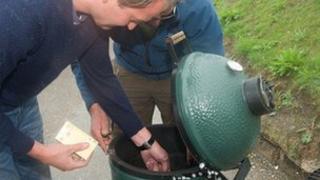 TV chef Galton Blackiston said he was in "utter disbelief" after his £800 barbecue was stolen following a film shoot with BBC Countryfile in Norfolk.
The chef, who was filmed cooking burgers by Cromer seafront, said it was stolen while cooling in a car park.
Mr Blackiston said he was "embarrassed" by what had happened but hoped the barbecue would be recovered.
Police said they were investigating the theft and appealed for witnesses to contact them.
The chef, who has appeared on shows including the BBC's Saturday Kitchen, had his charcoal barbecue stolen from the Runton Road public car park between 19:10 and 19:40 BST on 13 July.
'Incredibly hot'
The barbecue had been left by a waste bin to cool following a shoot at a public shelter with Countryfile presenters Matt Baker, Julia Bradbury and John Craven.
Mr Blackiston said he visited the nearby Cliftonville Hotel for a drink with his brother after filming and during that time the barbecue was taken.
"I was in utter disbelief. They had such a short time to steal it in," he said.
"The barbecue was incredibly hot, probably about 400 degrees, so it was just too hot to be put back into the car.
"Youngsters could have wheeled it away easily, but it would have taken big men to put it into a car.
"I cannot believe that someone's had the audacity and cheek to do it in daylight and nick it - I want it back."
Joanne Brame, Countryfile producer who was on the shoot, said the team was "very sorry it happened".