Machiavelli's The Prince first edition set for Norfolk auction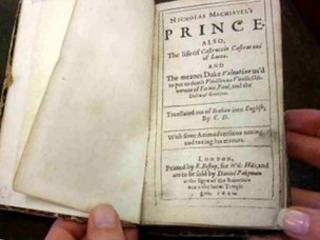 A rare first edition of a translation of The Prince by Niccolo Machiavelli, discovered in a Norfolk home, is expected to sell for £30,000.
The 300-page book, a 17th Century English translation of the Renaissance work, was found in a pile of common prayer books in Swanton Morley.
Andrew Bullock, from Keys Fine Art auctioneers, said the book was "an extremely rare and exciting find".
The book will be auctioned in Aylsham on Thursday.
An historian, diplomat and philosopher Niccolo Machiavelli is regarded by experts as the founder of modern political science.
The Prince was originally written in Italian in 1513 and published in 1532, five years after Machiavelli's death.
'Intrigue and treachery'
"This book is a rare opportunity for a collector as there has only been one other copy of a first edition English translation sold in the last 30 years," said book expert Sarah Prior.
"It was produced in a very limited run and this adds to its rarity.
"Machiavelli talks about the idea that someone needed to come forward to defend Italy from her foes, but needed to perhaps use methods of tyranny, intrigue and treachery which gave rise to the word Machiavellian in the English dictionary."
The book itself measures 14.5cm x 9cm (5.7in x 3.7in) and auctioneers predict interest in the sale will come from around the world.