Thetford bus station plans given go-ahead despite objections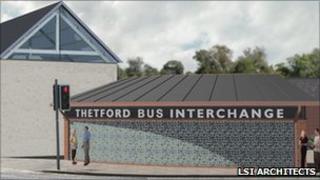 Plans to relocate a Norfolk town's bus station have been given the go-ahead, despite local objections.
A new station for Thetford was granted permission by Norfolk County Council on vacant land adjacent to St Nicholas Street, London Road and Minstergate.
The council said the new interchange was vital to the growth and regeneration of the town.
Stuart Wilson from the Thetford Society said the plans "ignored the views of local people".
A parish poll organised by Mr Wilson last year saw 1,921 out of 2,300 vote against the scheme.
In a report by the county council's director for environment, transport and development, Mike Jackson, said the new bus station would "strengthen public transport links" and help revitalise the town centre.
'Scaremongering'
However, Mr Wilson said the new site was "not fit for purpose", citing problems with congestion and access for people with disabilities.
He said the Thetford Society was debating whether or not to appeal to the Secretary of State for Communities and Local Government.
Breckland Council's Moving Thetford Forward scheme previously criticised the poll, stating the 14% turnout did not represent the majority of people in Thetford.
Spokesman Mark Robinson said much of the campaigners' literature was also "scaremongering" and contained many "factual inaccuracies".
Thetford Town Council said it objected to the plans, but stated if planning permission was granted it would want a raised pedestrian crossing built.