King's Lynn incinerator: Environment Agency permit issued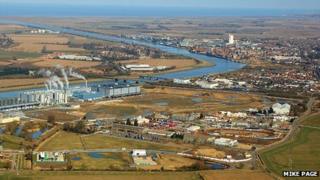 A proposed waste incinerator in Norfolk has been given an operational permit by the Environment Agency.
The £500m King's Lynn plant was given planning permission by Norfolk County Council in June, but it awaits the final go-ahead by the government.
The agency said amendments had been made following a draft consultation, but the plant can now incinerate up to 275,000 tonnes of waste per year.
The agency's permit is independent of the planning process.
Final objections to the Willows plant were lifted in February after concerns over flooding were addressed.
In April it issued the incinerator with a draft permit and gave people a month to comment on the terms.
'Permit to pollute'
Bill Borrett, Norfolk County Council's cabinet member for environment and waste, said it was a clear message the Willows can operate without harming the environment or human health.
He said: "I have, frankly, been astonished by some of the claims - mischievously presented as facts - made against the Willows by opponents to the scheme."
Mike Knights, campaigner against the plant, said: "There is absolutely every reason to be concerned about this proposal.
"Just because they've [EA] effectively issued a piece of paper that says you have a permit to pollute, that doesn't mean it's safe and doesn't change a thing."
A holding notice has been imposed on the plant, meaning it will not be built until the planning documents have been checked by the Secretary of State for Communities and Local Government, Eric Pickles.