Norwich city centre set for £3m business investment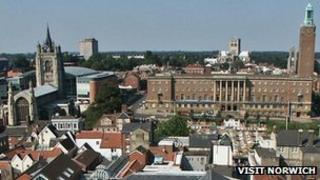 Companies in the centre of Norwich have voted to create a Business Improvement District (BID) and raise £3m to invest in the city.
Of 203 firms that voted in a ballot , 79% were in favour of the BID proposal, with a turnout of 30.7%.
The money will come from a 1% levy on 661 businesses in Norwich with a rateable value threshold above £15,000.
A BID spokesman said the scheme "will have a positive impact" in making the city attractive to investors.
'Positive impact'
Stefan Gurney, Norwich city centre partnership manager, said: "This has been an excellent result for the Norwich BID.
"Although it is a tough economic climate at present, Norwich businesses have voted to spend £3m on initiatives that will have a positive impact on the vitality of the city centre."
The Norwich BID aims to deliver:
Marketing initiatives to help us promote Norwich to new visitors and investors
An enriching, enjoyable and safe experience for visitors to the city
Collaborative buying power to save money
A stronger voice for local businesses
Mr Gurney added: "This 'yes' vote will allow local businesses to take ownership and make a real difference to the success of our city centre".