Wells-next-the-Sea glass defences 'transform' quayside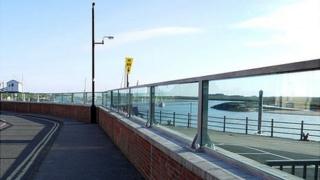 Glass flood defences installed alongside a north Norfolk coastline in a £116,000 project have "transformed" a quayside, an MP has said.
The Environment Agency (EA) said the "innovative" self-cleaning system in Wells-next-the-Sea was the first to be installed in East Anglia.
The glass wall, which replaced rotten oak boards, will protect more than 500 properties.
Norman Lamb, Lib Dem North Norfolk MP, said it was an "asset for the town".
"The new defences have transformed the quay and will be a real asset for the town," he said.
The glass structures, which took about two weeks to install, were paid for by the EA.
They have a "self-cleaning coating" and will require "minimal maintenance", the EA said.
Dr Charles Beardall, EA area manager, said: "As the boards needed replacing, our team designed this innovative solution which makes use of the significant improvements in structural glass technology."
The EA said the glass defences provided the same level of protection as the wooden walls, as well as "uninterrupted views across the quay".
Norfolk county councillor Dr Marie Strong said: "The old oak panels had gone past their sell-by date and they blocked off the view from the quay, but the glass is beautiful."
Harbour master Robert Smith said: "All the comments I've heard from tourists have said how good they look.
"The test will come when we have our first big surge to see if they work."