King's Lynn incinerator to face government review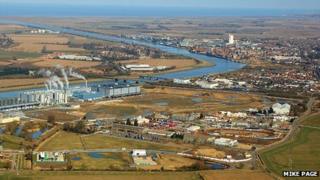 A planning application to build a waste incinerator in Norfolk is to be reviewed by the secretary of state.
The King's Lynn incinerator was given the go-ahead by Norfolk County Council planners in June.
But the Department for Communities and Local Government had put a holding notice on the £500m plant amid objections from local councils and MPs.
It confirmed the application had been "called in" due to "substantial regional and national controversy".
In a letter from the department to Nick Palmer, principal planner at Norfolk County Council, it said: "The secretary of state's policy is to be very selective about calling in planning applications.
"He will, in general, only take this step if planning issues of more than local importance are involved.
'Significant matter'
"Having regard to this policy, the secretary of state is of the opinion that the application is one that he ought to decide himself because he considers that the proposal concerns matters that are of substantial regional and national controversy."
The letter added a local inquiry would now be held.
North West Norfolk MP Henry Bellingham said 6,000 letters and emails objecting to the incinerator had been sent to the secretary of state Eric Pickles.
He said: "It's very good news. It means we will have the chance to put our case forward in a way in which we can actually be cross-questioned, get the arguments across and we'll get a fair hearing."
Mike Knights, campaigner against the incinerator, said he was "absolutely delighted" with the decision and said the public inquiry would be the "first opportunity for arguments to be heard by an impartial and independent body".
Graham Plant, Conservative cabinet member for planning and transportation at Norfolk County Council, said: "This can only be a helpful step in reassuring local people about what is a very significant matter for Norfolk.
"We are confident that the application meets all planning policy requirements, that the recommendation made by our planners was correct and that the decision taken by the planning committee was the right one, given national and local planning guidelines."