'Killer' shrimp spread on Broads in Norfolk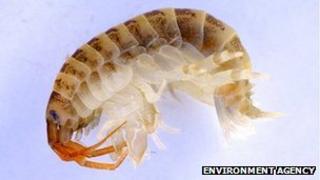 A non-native breed of "killer" shrimp found on the Norfolk Broads has spread further, the Environment Agency (EA) has said.
In March, Dikerogammarus villosus - which kills native shrimp and young fish - was discovered at Barton Broad in Norfolk and the River Ant.
The shrimp has now been detected at Wroxham Broad.
Boats, canoes, fishing nets and other equipment must be cleaned and dried to prevent further spread, EA added.
A spokesman said: "The discovery at Wroxham Broad indicates that the species is spreading through the Broadland system albeit slowly."
'No public risk'
The agency said it was working with Natural England and the Broads Authority to monitor the spread and investigate the impact of the shrimp in the Broads.
EA environment monitor Andrew Raine said: "As human activity is the most likely cause of spreading killer shrimp between sites it's imperative that all water users consider their actions particularly if they are moving equipment between water bodies whether that be boats, canoes or fishing nets."
Andrea Kelly, senior ecologist for the Broads Authority, said there was no risk to the public or pets.
The shrimps, which grow to about 30mm long (1.18in), were first found in UK waters in 2010 at Grafham Water in Cambridgeshire.
If the shrimp became established and widespread, as other invasive species such as floating pennywort and signal crayfish have, it could threaten populations of native species, the Environment Agency added.
It feeds on insect life including native species such as damselfly nymphs, water boatmen and small fish.