Paralympics 2012: Parade for swimmer Jessica-Jane Applegate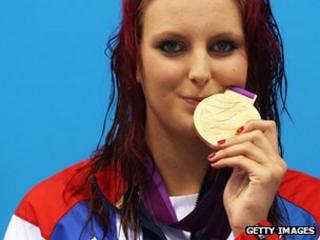 Gold medallist Jessica-Jane Applegate will celebrate her Paralympic Games victory with a parade through Great Yarmouth on 15 September.
The 16-year-old from Belton, near Great Yarmouth, Norfolk, set a Paralympic record in the women's S14 200m freestyle final on Sunday.
The celebration parade will start from the town hall at 09:55 BST.
Mayor Colleen Walker said it would be a chance for people to show "what her gold medal win means" to the town.
The parade will be followed by a civic reception and balcony appearance at the town hall.
"Jessica-Jane is a local girl and the borough council is really keen to show her just how proud we, and Great Yarmouth's residents, are of her achievement," said Ms Walker.
The parade will use the seaside resort's land-train to travel from Great Yarmouth Town Hall, along Nottingham Way, St Peters Road, Deneside, King Street and through the Market Place.
The route will continue along The Conge and then return to the town hall.
Residents are invited to stand beneath the balcony at the front of the town hall building for Jessica-Jane's appearance at about 10:30 BST.
Hundreds of people watched the swimmer earn her gold medal on a television screen at the Railway Tavern in Belton.
Landlady Vicki Applegate, the swimmer's aunt, said: "The atmosphere was electric.
"I'm surprised the doors and windows didn't get blown out by the noise, apparently it could be heard on the other side of the village.
"I think the parade is amazing. It would be fantastic to have lots of people come out for her.
"I just can't put into words how much people have supported her and it's lovely that Great Yarmouth council have decided to support her."