Roudham potato warehouse fire: Hot crops could have caused blaze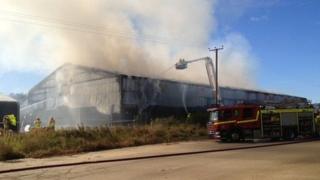 Crops "self-heating" could have been responsible for a fire that devastated a large potato warehouse in Norfolk.
About 80 firefighters tackled the blaze at Camp Farm, Roudham, for more than 12 hours on Thursday.
Assistant fire chief Roy Harold said the cause of the fire was not thought to be suspicious.
He said it was a possibility agricultural products had "self-heated, like a compost heap", sparking the blaze.
Potato chips, seeds in the steel barn and agricultural machinery were damaged.
Electricity was shut off to some homes in surrounding villages due to the blaze being near power lines.
No-one was injured in the fire, which was put out by 21:30 BST.