Toft Monks' Lee Goldsmith died after struggle with officer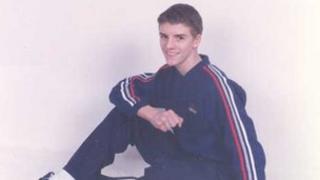 A man died at a New Year's Eve party in Norfolk after struggling with an off-duty police officer and a pub landlord, an inquest has heard.
Lee Goldsmith, 23, of Toft Monks, near Beccles, was restrained after refusing to leave the village's White Lion pub.
The inquest in Norwich heard Mr Goldsmith had suffered mental health problems but was recovering.
Coroner William Armstrong said the restraint was "proportionate" and had not caused Mr Goldsmith's death.
Recording a narrative verdict, Mr Armstrong said: "Lee died accidentally from cardio-pulmonary arrest caused by a combination of acute alcohol intoxication and excessive physical activity.
"The restraint was reasonable, proportionate and necessary and therefore lawful, and in any event, death was not caused by the restraint."
'Psychotic episodes'
The inquest heard Mr Goldsmith had been treated for mental health problems, including psychotic episodes, but was recovering well and had been taken off medication.
The unemployed farm worker had attended the pub's party with his mother Audrey and father Colin, and had been reluctant to leave at 02:30 GMT when his father suggested.
His father, along with landlord Colin Worboys, led him out of the pub, but shortly afterwards he began struggling with Mr Worboys and the pair fell through a fence.
Dean Harrison, an off-duty police officer, then went to the aid of Mr Worboys.
As Mr Goldsmith struggled, Mr Harrison said he held him across the chest and held one of his hands, while Mr Worboys held the other.
Initial arrests
Soon afterwards however, Mr Goldsmith stopped breathing and his eyes closed.
When police officers arrived, they joined attempts to resuscitate him, which were later taken over by ambulance staff.
Mr Goldsmith was later taken to the James Paget Hospital in Gorleston, where he died at 04:45 GMT.
A post-mortem examination showed he was more than three times over the legal drink-drive limit and had bruises and grazes consistent with a struggle.
Mr Harrison and Mr Worboys were both arrested, but were released after the Crown Prosecution Service decided there was insufficient evidence to prosecute them.