Amphibious car could be built in Norfolk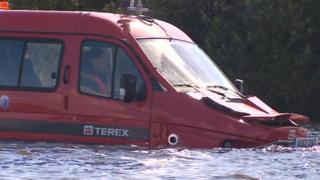 A Norfolk businessman has bought the rights to build and sell worldwide an amphibious car that can be driven on land and water.
The Terex ZZ3 or The Otter which costs £73,000 recently had a test run on the River Yare.
Tim Dockerty, from Specialist Vehicle Trading, imported the car from Russia after seeing it in action on a website.
The company, which is looking for a factory to assemble the vehicles said it could bring jobs to the area.
Mr Dockerty, 52, has spent two and a half years trying to bring the vehicle into the country.
He said "I'm hoping that we will bring it into the UK, westernise it and employ people to do that and then see how we go."
The firm has set a target to sell 20 vehicles in the first year.
"I'm calling it the smart man's helicopter because it will do anything a chopper would do but it's cheaper."
The vehicle is usually used as a search and rescue car in remote and wild parts of Russia.