£14m contract award to spruce up County Hall in Norwich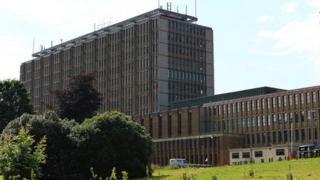 A £14m contract has been awarded to spruce up Norfolk County Council's 1960s-built headquarters.
The building, opened by the Queen, is showing its age and needs refurbishment, the council said.
To help pay for the work, all council staff are to be brought back to County Hall building in Norwich.
The opposition Labour Party has agreed the building was not fit for purpose but said getting out of existing leases could bring "hidden costs".
The Conservative administration believes centralising staff at County Hall would bring "a potential £2m a year saving".
'Hidden costs'
A major part of the work under the contract awarded to local construction firm R G Carter will be to cut energy costs with more insulation, secondary glazing, a new heating system and air conditioning.
The first phase of work will be on the main eight-storey tower block with total investment expected to be £22.2m over 25 years.
Cliff Jordan, cabinet member for efficiency, said retaining County Hall was "the most practical and affordable solution".
"The costs will be offset by savings of up to £2m as staff vacate other buildings and move to County Hall."
Sue Whittaker, for the Labour Party, said: "If council staff are to be centralised then County Hall needs sprucing up as it is not fit for purpose at present.
"But I wonder if the hidden costs of getting out of all the leases to offices around Norwich has been taken into account.
"Also, a lot of remedial work is needed. The building might have been fine for the 60s and 70s but for the modern world it leaves a awful lot to be desired."