Norfolk GP's 'horror' over mental illness centre plan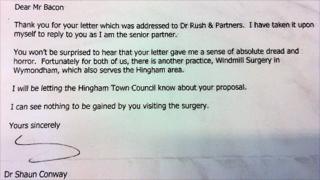 A Norfolk GP who expressed "absolute dread and horror" at the suggestion a centre for people with mental illness and learning disabilities might open in his practice area has denied discriminating against patients.
Shaun Conway made the comments in a letter to Dennis Bacon, the managing director of a proposed new supported care facility in Hingham, after he had contacted the surgery suggesting a meeting.
Dr Conway also stated that "fortunately" there was another GP practice in the area which Mr Bacon could try instead.
When contacted by the BBC, he said his emotions expressed in the letter related to a private care facility being opened in the area.
"I know there are GPs that are less comfortable about providing cover for people with mental health problems and learning difficulties", said Mr Bacon.
"But these people already face massive health inequalities and most GPs now are very aware they have equal rights of access."
Duty to accept patients
GPs are obliged to take on new patients regardless of their age, disability or medical conditions, unless their practice list is closed - or if they have reasonable grounds to refuse.
"It sounds as if this GP is trying to pass the buck," said Beverley Dawkins, from the learning disability charity Mencap.
"If a care provider has very responsibly tried to arrange good GP access for the people which that service is going to support, that GP in partnership with the primary care trust does have a responsibility to solve this problem."
Dennis Bacon is in the process of applying for planning permission to open a new 20 bed supported care facility on land less than half a mile away from the Hingham surgery.
He already runs a similar service in Wroxham called Keys Hill Park.
In a statement, Dr Conway, the senior partner at the Hingham surgery said: "I fully understand and welcome my duty to accept new patients in my practice area and to provide care for all people regardless of age or disability.
"Hingham Surgery strives to never discriminate against anyone. Our record bears this out.
"Within the NHS, there are guarantees of quality. The proposed scheme is a private venture and not part of the NHS.
"The emotions expressed in my letter related to a private care facility being opened in Hingham and my comments in no way reflect upon patients new or existing."
You can hear more on this on You & Yours on BBC Radio 4 from midday on Wednesday 26th September 2012.