Machiavelli's The Prince sells when auctioned in Norfolk for the second time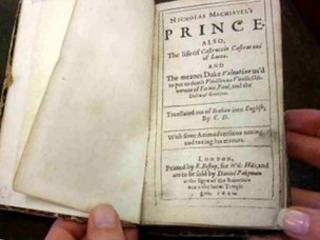 A rare first edition translation of The Prince by Niccolo Machiavelli has finally been sold at auction in Norfolk.
The 17th Century English translation was found in a pile of common prayer books at a house in Swanton Morley.
It went under the hammer at Keys Fine Art auctioneers in July for a guide price of £25,000 to £30,000, but failed to sell.
On Thursday the 300-page book was sold for £15,000.
A spokeswoman for Keys said the book would be staying in the UK.
An historian, diplomat and philosopher Niccolo Machiavelli is regarded by many experts as the founder of modern political science.
The Prince was originally written in Italian in 1513 and published in 1532, five years after Machiavelli's death.