'Resident Evil' killers jailed for Derek Blake murder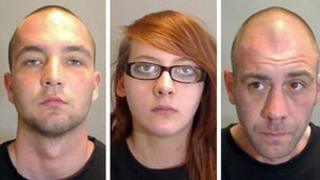 Three people who murdered a man in Norfolk after torturing him in scenes compared to the Resident Evil horror franchise have been jailed for life.
Derek Blake, 44, was found dead with wounds and burns in a bath of water at a flat in Great Yarmouth on 24 May.
At Norwich Crown Court, Ricky Roys, 20, Andrew Brown, 42, and Helen Cooke, 19, all of Great Yarmouth, each pleaded guilty to the murder.
Brown must serve at least 23 years in jail, Roys 20 and Cooke 18.
A pathologist found Mr Blake had suffered 104 separate injuries and had been subjected to a "painful and humiliating" ordeal.
One of his killers, all of whom lived in St Nicholas Road, later compared the alcohol-fuelled attack to Resident Evil, a graphic series of video games which has inspired five horror films.
The attack included pouring boiling water over Mr Blake, inflicting cuts and burns all over his body and torturing him with a pool cue.
The letter J was carved into the side of his face.
Judge Peter Jacobs said: "This was a murder involving sadistic conduct. This went far beyond a punishment beating and the infliction of this many injuries confirms you intended to kill him.
"You had been overtaken by the gravity of your own actions. It is obvious Brown took the lead but this must be balanced against the obvious sustained involvement of each person."
Prosecutor Graham Parkin had earlier told the court: "He [Mr Blake] was the victim of a sustained assault over an extended period of time.
"A claw hammer, a boning knife and another knife were found in the flat and these had been used in the attack.
"Mr Blake may have survived for some hours after the attack. He would have been conscious for much of that and would have been in extreme pain.
"Acts of torture took place - sadistic acts."
Mr Parkin said Mr Blake had been a "mentally very fragile and vulnerable man" with alcohol problems but had been a "happy drunk".
He met his killers in a hostel in the town and they became drinking partners.
Michael Clare, mitigating on behalf of Brown, said his recollection of the events was limited because of the amount of alcohol he had consumed.
Roys' counsel Ian James said he had led a "chaotic and drunken" lifestyle for many years.
Katherine Moore, representing Cooke, said she had been 18 and had lived with her mother at the time of the murder.
"She had been drinking heavily since the age of 13. She effectively left school from the age of 14."